Landscape development in the Bavarian Forest Nature Park
Supply storage for man and animal
Soil means life and life should be well looked after. The Bavarian Forest Nature Park has a long history of agricultural usage.
Agriculture already played a role in the early Stone Age on the fertile loess-clay soils of the Danube plain. Today intensive arable-grassland usage can be found in these same areas. This has led to the name "Cornbin of Bavaria" for this area.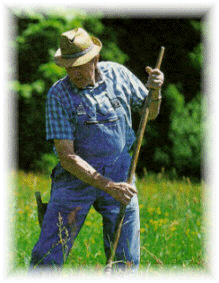 In the Bavarian Forest the conditions for agriculture - with regional differences within the Nature Park - are less favourable. Oats, rye, potatoes and more and more maize are grown on the south facing flatter hillsides in the climatically favoured regions of the foreforest. The "Lallinger Winkel", a protected bay in the foreforest has developed into a famous region for growing fruit. Grazing is the main agricultural feature in the Regen Valley and the hilly areas in the south east.
Up until the 50ies cattle were taken into the forests for grazing in summer. In winter they could then be fed with hay taken from the meadows.
Whereas the cows were grazing in the forests closeby, the young cattle and the bulls were driven further away into the higher forests where they stayed for the whole summer under observation. There, forest pastures, the so called "Schachten", developed which provided a resting area at night for the cattle. These "Islands in the sea of forest" with their ancient beeches and sycamores are favorite places for a visit today.